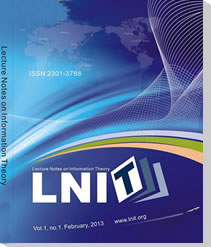 Lecture Notes on Information Theory
LNIT aims to provide a high profile, leading edge forum for academic researchers, industrial professionals, engineers, consultants, managers, educators and policy makers working in the field to contribute and disseminate innovative new work on Information Theory. All papers will be blind reviewed and accepted papers will be published quarterly which is available online (
open access
) and in printed version.
Recently Published Papers
Concepts and Principles of Assistive e-Learning System with Multinary Learning for Hearing-Impaired Students
Thanongsak Sovajassatakul and Settachai Chaisanit
E-learning is a term used to describe the e-learning systems that delivers the learning content by using the Internet to offer the learning material to students supported by activities, assessments, and guidance. This paper presents an e-Learning concept that offers hearing-Impaired students in correspondence with the content in the learning environment. The system is designed...[Read more]
ISSN: 2301-3788
Editor-in-Chief: Prof. Geetam S. Tomar
Associate Executive Editor: Ms. Scene Jiang
DOI: 10.18178/lnit
Abstracting/Indexing: EI(INSPEC, IET), Ulrich's Periodicals Directory, Google Scholar, Crossref, Engineering & Technology Digital Library and etc.
E-mail questions or comments to LNIT Editorial Office.

Prof. Geetam S. Tomar
Malwa Institute of Technology & Management, Gwalior
I am very excited to serve as the first Editor-in-Chief of the
Lecture Notes on Information Theory
(LNIT) and hope that the publication can enrich the readers'
... [
Read More
]