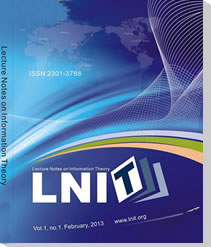 Lecture Notes on Information Theory
LNIT aims to provide a high profile, leading edge forum for academic researchers, industrial professionals, engineers, consultants, managers, educators and policy makers working in the field to contribute and disseminate innovative new work on Information Theory. All papers will be blind reviewed and accepted papers will be published quarterly which is available online (
open access
) and in printed version.
Recently Published Papers
Extracting Basic Fighter Maneuvers from Actual Flight Data
Mustafa Karli, Mehmet Önder Efe, and Hayri Sever
Abstract—Air combat maneuvers are very complex actions performed by agile aircrafts. Extracting critical maneuvers from a combat scenario in a structured format has many advantages like teaching maneuvers to the unmanned systems, evaluating pilot performance or analyzing possible combat scenarios. Basic Fighter Maneuvers are special maneuvers...[Read more]
ISSN: 2301-3788
Editor-in-Chief: Prof. Geetam S. Tomar
Associate Executive Editor: Ms. Scene Jiang
DOI: 10.18178/lnit
Abstracting/Indexing: Ulrich's Periodicals Directory, Google Scholar, Crossref, etc.
E-mail questions or comments to LNIT Editorial Office.

Prof. Geetam S. Tomar
Malwa Institute of Technology & Management, Gwalior
I am very excited to serve as the first Editor-in-Chief of the
Lecture Notes on Information Theory
(LNIT) and hope that the
... [
Read More
]